MSFA, Minnesota Vikings Unveil U.S. Bank Stadium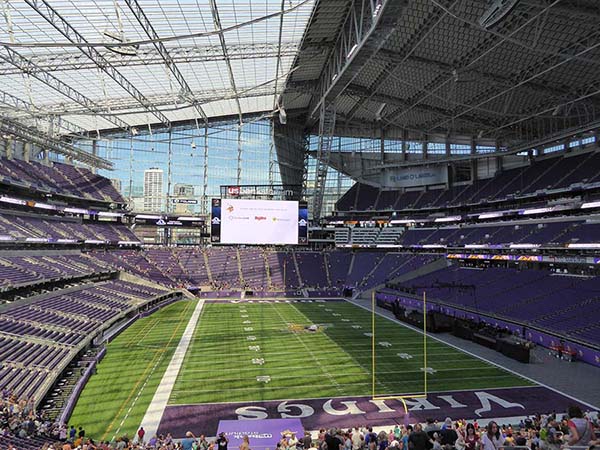 After more than three years of design and construction,
U.S. Bank Stadium
, the new multipurpose stadium that is also home to the NFL Minnesota Vikings, officially opened on June 22, 2016 with a formal ribbon cutting ceremony, attended by state and local dignitaries, business leaders and project team members—followed by a two-day public open house.
The new 66,200-seat stadium is an iconic anchor to the rapidly developing East Town district of Minneapolis. In recognition of the building's public ownership and its stature as a new state of Minnesota landmark, the stadium's lead architect and contractor –
HKS Architects
and
Mortenson Construction
– engaged a number of local firms, including Studio Hive, as key team members. Studio Hive partnered with HKS on the design and documentation of the stadium's premium spaces, which include 131 suites that range in capacity from 10 to 24 fans, and approximately 8,200 seats within six different club spaces.
According to Studio Hive principal Shawn Gaither, AIA, LEED AP, "Intentionally, the design of U.S. Bank Stadium is like no other sport venue in town, or in the country. It's a structure that responds to a new age in sports and entertainment, where the fan experience, team brand and the game itself came together to mold the building's shape and form. This venue will deliver a vibrant and personal fan experience through amenities, natural light and views that did not previously exist in the Metrodome."
Continues Gaither, "With more than 66,000 seats, 131 suites, six clubs, state-of-the-art technology and video boards, and a vibe that leans more toward nightclub than sports bar, the game-day atmosphere will be electric. U.S. Bank Stadium will deliver an incredible and unique fan experience that will be celebrated for what it will add to our community."
The stadium's first major event, a premier league soccer match between A.C. Milan and Chelsea F.C, will be held on August 3, with the first regular season Vikings game on September 18, 2016. The stadium was also selected to host a number of major sporting events: the 2018 Super Bowl, the 2019 NCAA Final Four, and the ESPN X Games in both 2017 and 2018.
Studio Hive is unique among Twin Cities design firms in that its team has been involved with the design of nearly all of the region's major sports venues. In addition to U.S. Bank Stadium, Studio Hive led the interior design of TCF Bank Stadium at the University of Minnesota; participated in the design of premium spaces at Target Field – home of the MLB Minnesota Twins; and is currently part of the design team for the renovation of the premium spaces at the Target Center arena in downtown Minneapolis.
For more coverage of the U.S. Bank Stadium opening, please visit the following links.